Program for kids 4 years old through 6th grade. Sundays, 10:30 – 11:30 A.M
Kids enjoy singing, Bible stories, scripture memorization, games, crafts, and projects, and various service projects!
"Keep your roots deep in Jesus Christ and have your lives built in him. Be strong in the faith, just as you were taught. And always be thankful." Colossians 2:7″
DKidz is designed as "The Place to Be a Kid," where your child(ren) will feel accepted, safe, and geared up about coming every week. At DKidz we demonstrate that the Bible is not only relevant to kids, but we encourage them to discover how God is active in their lives and to build their Value System and World View on God's Word.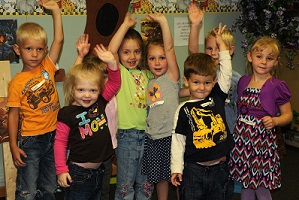 God has made and gifted every single child in a very special way. Each child has there own set of skills and needs. DKidz gives each child the opportunity to learn exactly what God has for them through a variety of stimulating activities.
You can always contact us for more information.